GNTHCC Q2 2023 Bienvenidos Onboarding Event *Members Only
June 2 @ 12:00 pm

-

2:00 pm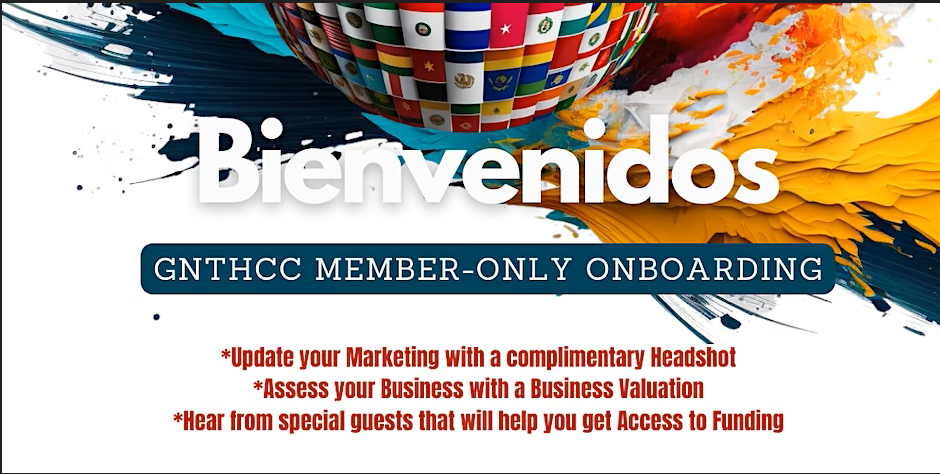 At our Bienvenidos Onboarding Event, we'll help you get exposure by giving you the opportunity to deliver your own elevator speech, so you can perfect your pitch and attract potential clients and investors. We'll provide you with a complimentary headshot to use on your website or social media profiles, so you can present a professional image to your customers. We'll also help you assess your business with a free business valuation, so you can better understand your company's strengths and weaknesses and identify areas for improvement.
Every quarter we'll be bringing in a special guest to offer their expertise and insights on topics such as marketing, finance, and more. With our onboarding event, you'll have access to the resources and support you need to succeed in your business. So don't wait! Register now for our Bienvenidos Onboarding Event and take the first step towards building a successful and thriving business. We look forward to seeing you there!
Every ticket purchase is a donation for our Greater North Texas Hispanic Chamber of Commerce Foundation.
Details:
1. Become a member big signing up our website, www.gnthcc.org
2. You will receive an email with instructions to fill out for onboarding.
3. You will be added to newsletter so you get instructions on next steps.
Please be on time!
Donations taken at the event and by purchasing this ticket. Your donation will benefit the GNTHCC Leadership Foundation. Sponsorship opportunities available to members, if you need more information feel free to email [email protected]
*Enter any dollar amount to purchase ticket