Calaveras y Cempazúchitl
October 27 @ 6:00 pm

-

10:00 pm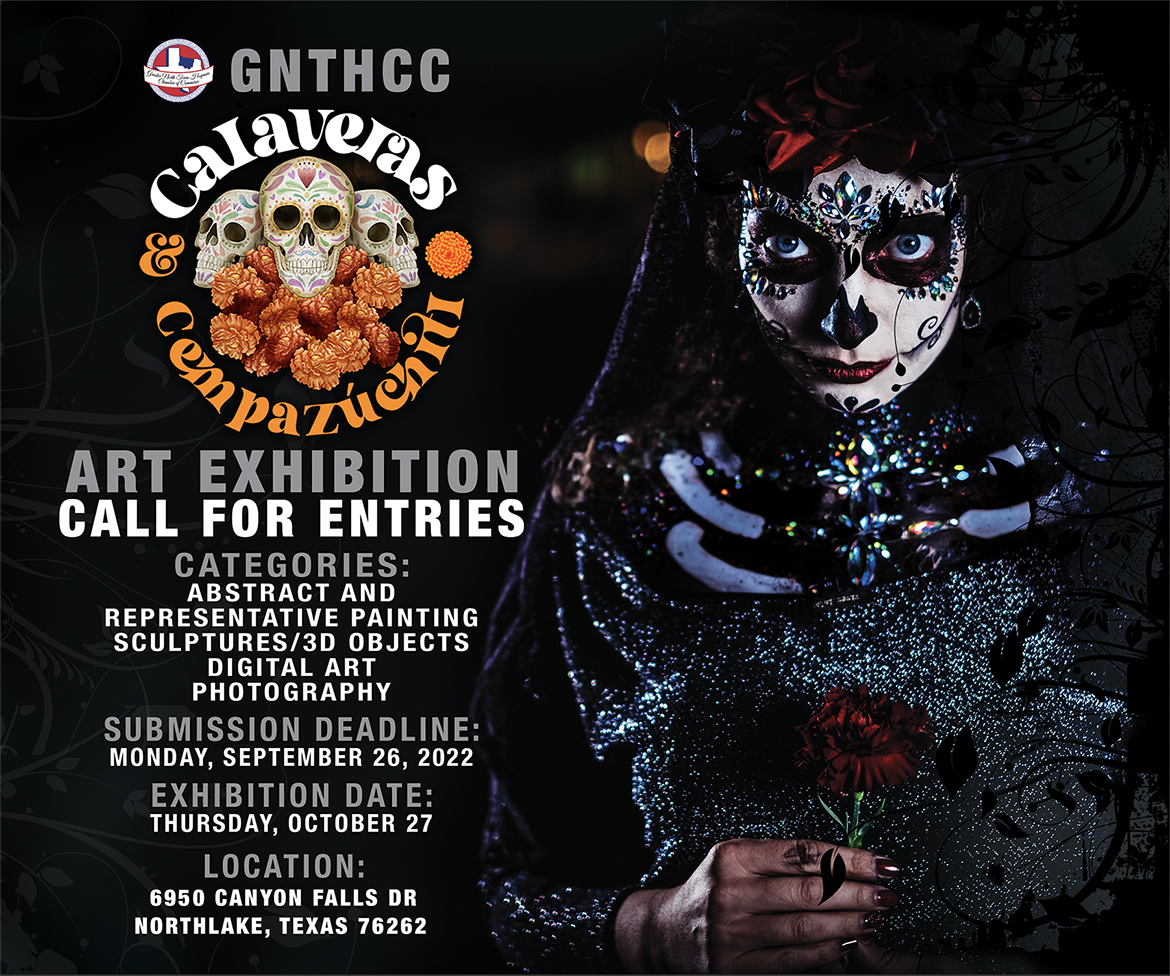 CREATIVE DESIGN LAB and GNTHCC
Invite you to participate in the art exhibition:
"CALAVERAS Y CEMPAZUCHITL"
The Greater North Texas Hispanic Chamber of Commerce announces a
CALL FOR ENTRIES
"CALAVERAS Y CEMPAZUCHITL"
Juried Exhibition
"CALAVERAS Y CEMPAZUCHITL" is a first annual juried exhibition designed to showcase the recent work of professional Hispanic/Latin artists who reside and are active in the artistic environment of the Dallas-FW area. The exhibition was conceived by the The Greater North Texas Hispanic Chamber of Commerce in recognition of the numerous talented artists whose creative endeavors give vitality to the cultural movement in Dallas/Fort Worth.
20 art pieces will be selected by the jury of the call, Artists will have the opportunity to artistically express our culture in front of leaders of our communities and the general public.
SPECIFICATIONS OF THE CALL
The participating artist whose works have been produced during the last two years, and/or create a piece inspired by the cultural roots of Latin America suitable and completed for the exhibition "Calaveras y Cempazúchitl" (Día de muertos).
Digital design, sculpture, photography or painting that is presented must be original. Finalist works from other contests, or awarded in other contests, cannot participate.
The submitted work cannot interfere with the intellectual property of third parties, for example: trademarks, registered patents, copyrights, among others. Only one proposal per artist will be accepted.
In the realization of the works, logos or corporate advertising messages will not be accepted. In particular, sketches related to violence, xenophobia and any other theme that the jury considers inappropriate are considered inappropriate.
Categories
Abstract and Representative Painting
Sculpture/3D Objects
Photography printed on canvas
Digital Art printed on canvas
Eligibility:
Artists must be 18 years or older to apply.
Artists must reside in the City of Dallas or within the Dallas/Fort Worth Metroplex.
Time availability to report to the NGTHCC office for the different phases of the contest.
Abstract and representative paintings using traditional art tools (such as acrylic paints, spray paint, brushes, etc.)
Sculptures (artists who exhibit sculptures that require the use of special equipment will be responsible for providing such equipment for the exhibition).
Digital artwork should be printed on canvas, mounted on wooden canvas stretcher bars, not framed.
Size specifications for wall artwork 3'H X 3'W or W 5'H X 3'W. (Add extra 1 inch edge for bleed)
THERE IS NO ENTRY FEE FOR THIS JURIED EXHIBITION
FIRST 10 ENTRIES ARE ELIGIBLE FOR A 3'X3' PRINT ON CANVAS AT NO COST
How to Submit Entries:
Please submit the following for consideration:
Max of two digital images of paintings, sculptures or digital artwork.
Files should be named (last name) and numbered for every image submitted.
Artist statements of 50 words or less
Artists may submit two different artworks to be considered following the parameters defined above.
Completed Artist Entry Form
https://forms.gle/hUAWwtst63Akm5gs5
Physical artwork Submissions in person at the time of delivery.
Exhibition Timeline
Submission deadline: Monday, September 26, 2022
Notifications to artists: Saturday, October 1, 2022 via email
Delivery of artwork: Monday, October 10, 2022
Exhibition date: Thursday, October 27
Opening reception: Thursday, October 27, 2022, 6-10p.m.
Location: CF Clubhouse, 6950 Canyon Falls Dr., Northlake, TX 76226
Notification
Artists will be notified of selection October 1, 2022 via email
Works must be ready for display, including a secure hanging device, if applicable. Artwork that is not suitable for hanging/displaying will not be included in the exhibition
Evaluation process.
The Jury will be made up of representatives from the GNTHCC Greater North Texas Hispanic Chamber of Commerce The Jury will be responsible for selecting the 20 winning works. The 20 artistic works that best represent the theme of the call in an aesthetic and creative way will be selected. The decisions of the jury will be final.
Interest Form: